Sola Busca - Ancient Enlightened Tarot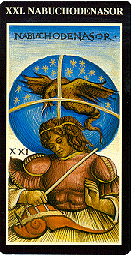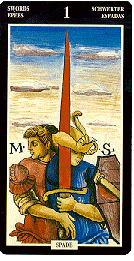 The Sola Busca Tarot dates from the late 15th Century in Italy. The original 78 cards were printed from metal engraving plates and then illuminated. In 1934 the Sola-Busca family of Milan gave pictures of the complete deck to the British Museum, but the whereabouts of this family and their deck is no longer known. The Sola Busca is the earliest known deck to include pictorial elements on the numbered suit cards. The major arcana is quite different from the traditional. Each card shows a classical figure from history, usually a warrior. The Fool (Mato) is the only card familiar from modern decks. Tarot researchers have noted similarities between some Sola Busca cards and those of the Rider-Waite. They speculate that artist Pamela Colman Smith drew inspiration from the Sola Busca when creating her designs. There is a separate companion book for this deck called The Sola Busca Tarot. This deck is also known as the Ancient Enlightened Tarot and the Illuminating Ancient Tarots.

Deck

Number of
Cards
Size
Copyright
Card Back Design
78

22 major
56 minor

2 3/8"
x
4 1/2"
1995

Order - Amazon
Companion Book

Title
Author
Size
Number of
Pages
Copyright
Cover
Sola Busca
Tarot
Sofia
Di Vincenzo
4 5/8"
x
7"
208
1998

Order - Amazon
Language of card titles:
Major Arcana = Latin
Minor Arcana = English, French, German, Spanish, Italian
Style of suit cards (2-10): suit symbols with pictorial settings and figures
Also included with deck: title card, instruction cards in five languages
Major Arcana:
Mato, Panfilio, Postumio, Lenpio, Mario, Catulo, Sesto, Deo Tauro,
Nerone, Falco, Venturio, Tulio, Carbone, Catone, Bocho,
Metelo, Olivo, Ipeo, Lentulo, Sabino, Nenbroto, Nabuchodenasor
Suit Names: Wands, Chalices (Cups), Swords, Pentacles
Court Cards: King, Queen, Knight, Knave (Page)
Links to Other Sites:
Tea Hilander's Sola Busca website
Review - Wicce website
SAMPLE CARD IMAGES: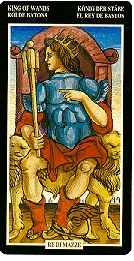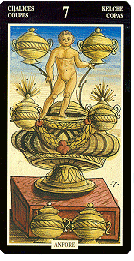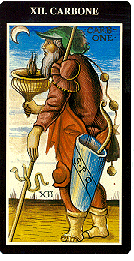 Reference -
The Encyclopedia of Tarot: Volume 1 by Stuart Kaplan, pgs. 124, 126-127
Volume 2, pgs. 197, 270, 297-302
Volume 3, pg. 30.
---