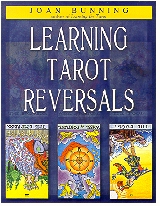 Learning Tarot Reversals
by Joan Bunning
published November, 2003
Red Wheel/Weiser, Inc.
$16.95


In Learning Tarot Reversals, I describe how tarot cards are symbols of energies in your life.
Upright cards show strong energies, reversed cards show those that are weak or undeveloped.
The way a card faces tells you about its strength and impact.

The book is divided into two parts:

Part 1 = Eight lessons with exercises
Lesson 1 - Energy and the Tarot
Lesson 2 - The Energy Cycle and Orientation
Lesson 3 - Energy Phases
Lesson 4 - Repeating Cycles
Lesson 5 - Mismatches
Lesson 6 - Opposing Energy Pairs
Lesson 7 - Energy Groups
Lesson 8 -Interpretation Strategy


Part 2 = Reversed Card Descriptions (see sample page)


Learning Tarot Reversals can be read by itself, but it also extends the lessons in my first book Learning the Tarot.
If you're a tarot beginner, I recommend starting with Learning the Tarot (or my on-line course).
Once you know the basics, Learning Tarot Reversals will be a natural next-step in your studies.

If you have tarot experience, Learning Tarot Reversals will give you some new ideas to consider.
You should be able to understand and adapt the ideas in this book to your own methods.
---