Esoteric Ancient Tarots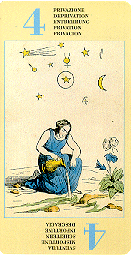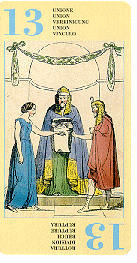 The Esoteric Ancient Tarots is a reproduction of a deck created in 1870. It is based on a deck designed by Francoise Alliette, more commonly known as Etteilla (Alliette spelled backwards). Etteilla was a famous occultist and card reader of the late 18th century who "popularized the use of tarot for divination and the practice of interpreting reversed cards." In this deck, every card is numbered. The major arcana are cards 1-21 and 78. They are based on the traditional majors, but are in a different order and lack the usual names. The suit cards follow. They are similar to the usual minor arcana cards, but suits and court cards are not identified. Each card has a keyword meaning for both upright and reversed positions in five languages. The images reflect Etteilla's interest in Egyptian culture and pre-Revolutionary France.

Number of Cards
Size
Copyright
Card Back Design
78
22 major/56 minor
2 3/8" x 4 1/2"
2000
Language of Card Titles: Italian, English, German, French, Spanish
Style of Suit Cards (2-10): Suit symbols
Also Included: instruction cards in five languages, title card
All Cards - Upright
Male Consultant, Glory, Purpose, Deprivation, Happiness, Satisfaction,
Protection, Female Consultant, Peace, Health, Fortune, Circumspection,
Union, Sufferance, Melancholy, Trial, Loss, Betrayal, Catastrophy,
Dispute, Dignity, Family, Defence, Departure, Good News, Deception,
Contrariness, Travels, Result, Unfaithfulness, Prosperity, Riches,
Initiative, Torment, Birth, Help, Success, Arrive, Confidence, Honour,
Victory, Tenderness, Thoughts, The Past, Inheritance, Boredom,
Conclusion, Celebrations, Dangers, Wodowhood (Widowhood), Ability, Improvidence,
Tears, Conscience, Blame, Trust, Travels, Loss, Solitude, Separation,
Friendship, Embarassment, Kind Man, Generous Woman, Usefulness,
False Love, Home, Realization, Beauty, Money, Gifts, Lovers, Homage,
Embarassment, Nobility, Total Wellbeing, Extravagance
All Cards - Reversed:
Male Consultant, Disgrace, Attempt, Misfortune, Misery, Result,
Conclusion, Female Consultant, Dissension, Illness, Misfortune,
Discussion, Division, Disgrace, Convalescence, Prejudice, Ruin,
Repentance, Imprisonment, Independence, Fortune, Counsel,
Obstacles, Disagreement, Bad News, Trap, Misfortune, Arguments,
Indecision, Waiting, Precaution, Trial, Hope, Surprise, Torment,
Medicine, Happy Ending, Nasty Trick, Delusion, Battle, Mistakes,
Satisfaction, Projects, The Future, Arrival of a Relative,
New Knowledge, Expedition, Different Desires, Changes, Sadness,
Bad Conduct, Incoherence, Spying, Short-Term Success, Mistrust,
Important Event, Unhelpful Advice, Declarations, Duel, Thriftiness,
Loss, False Friends, Pregnancy, Dangerous Man, Suspicious Woman,
Laziness, Lavishness, Fortune at Games, Fraud, Usury, Restlessness,
Ambitions, Disorder, Obstacles, Letter, Children, Riches, Folly
Suit Names: Wands, Cups, Swords, Pentacles
Court Cards: King, Queen, Knight, Page
SAMPLE CARD IMAGES: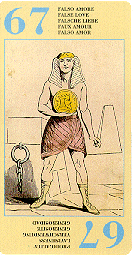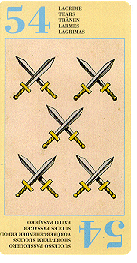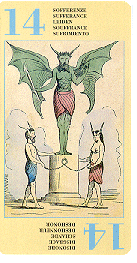 Reference - The Encyclopedia of Tarot: Volume 1 by Stuart Kaplan, pgs 137, 140-143.
---