Cary-Yale Visconti Tarocchi Deck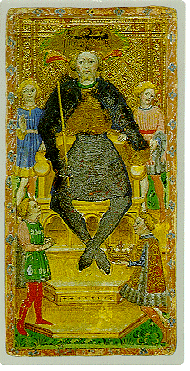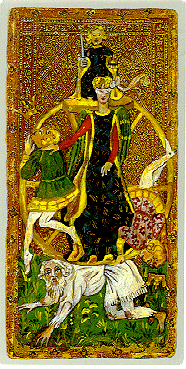 The Cary-Yale Visconti Tarocchi deck is one of the Visconti-Sforza packs created in Italy in the mid-15th Century. The deck originally belonged to the Visconti di Modrone collection. It was bought by Melbert B. Cary, Jr. in 1947, and he in turn bequeathed it to the Beinecke Rare Book and Manuscript Library at Yale University. This facsimile edition of the Cary-Yale has 86 cards - 67 from the original deck and 19 recreated by artist Luigi Scapini to replace those that are missing. Most tarot decks have 78 cards. In the Cary-Yale, two court cards have been added to each suit - a female Knight and Page, sometimes called the mounted lady and maid. This deck also includes the three theological virtues - Faith, Hope and Charity. In this deck, these cards are used to replace the missing Pope, Star and Popess cards. The suit symbol for the Staves (or Wands) suit is an arrow. The cards are larger than usual, and there are no numbers or titles on them.

Number of Cards
Size
Copyright
Card Back Design
86
22 major/64 minor
3 3/4" X 7 1/2"
1984
Language of Card Titles: untitled
Style of Suit Cards (2-10): suit symbols
Also Included: instruction booklet
Major Arcana:
Fool, Magician, Charity, Empress, Emperor, Faith, Lovers, Chariot,
Justice (card 8), Hermit, Wheel of Fortune, Strength (card 11),
Hanged Man, Death, Temperance, Devil, Tower, Hope, Moon,
Sun, Judgment, World
Suit Names: Staves (Wands), Cups, Swords, Coins (Pentacles)
Court Cards: King, Queen, Male Knight, Male Page, Female Knight, Female Page
SAMPLE CARD IMAGES: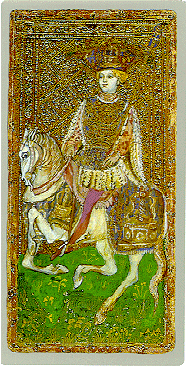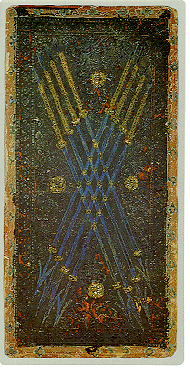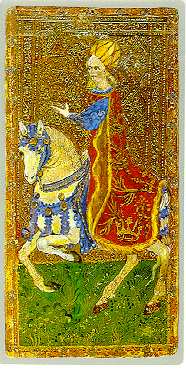 Reference - The Encyclopedia of Tarot: Volume 1 by Stuart Kaplan, pgs. 58, 61-64, 87, 88-96, 98, 106-107 and 178.
---